St. Matthew's Youth Group is open to all youth in middle school and high school and visitors and new members are always welcome. The purpose is to encourage, inspire, and enlighten our young people.
We will meet most Sunday evenings, 4:30-6:00; on Dinner Sundays, 4:30-6:30, with dinner occurring at 6:00. Meetings will include a Scripture Exercise (roughly 10 mins.), Snack, Journal Entries & Sharing (15 mins.), Weekly Program—Usually a Guest Speaker (20 mins.), Activity/Game (20 mins.), and a Song and Closing Prayer (10 mins.).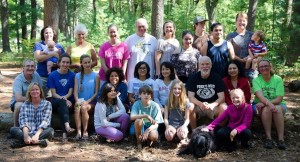 Church Camping Trip September 18-20, 2015
Enjoyed by youth and other members of the congregation
Here is a list of meeting dates and activities for the next several months.
Sunday, October 16: Introduction/Planning Meeting – First traditional meeting to discuss plans for the year and provide an overview of St. Matthew's Mission and Vision Statements.
Sunday, October 23 (afternoon): CROP WALK, Concord, MA ­
Sunday, October 30: Halloween Open House with Pizza Dinner – An opportunity to invite Youth from all around the community to experience St. Matthew's Youth Group. Halloween games and activities.
Sunday, November 13: "Living Our Values" Discussion & Activity
Saturday, November 19 & Sunday, November 20: Festival of Sharing – Youth Group members are asked to help.
Sunday, November 27: Film, Dinner, Discussion
Sunday, December 11: Caroling & Holiday Party
Sunday, January 8: "Living Our Values" Discussion & Activity
Sunday, January 22: Film, Dinner, Discussion
Saturday, February 4: Prepare for Super Bowl Bake Sale
Sunday, February 5: SUPER BOWL BAKE SALE