People from St. Matthews attended a weekend retreat at St. Mary's Abbey McMahon retreat house in Wrentham, MA.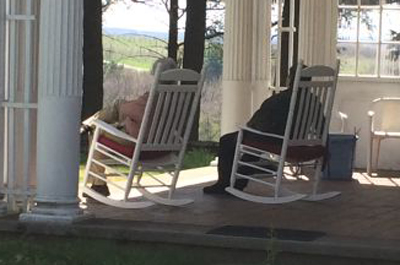 The following are some of their observations and reflections on the experience.
____________________________________________________________
One of the patterns I grew up with was that Sunday was a "Holy Day of Obligation." We were free to do whatever we wanted with the rest of the week as long as we were cleansed at church on Sundays. It was often rushed. Check it off the list. Get it over with so you could move on with your weekend. That's the habit I adopted. And one I really never questioned until recently.
I prefer to believe there's a reason we all literally come here to St. Matthews. It's not just because it's convenient to us because in Massachusetts a wide variety of churches are everywhere. I think we're drawn together here, and just like dieting where eating the same foods do not help everyone lose or gain weight, the food we get here is unique to us. It makes us feel full in ways other places do not.
Science has confirmed this for us intellectually, but anyone who has ever dieted knows instinctively that when they try to lose weight their bodies fight desperately to keep them the way they were. They call it a physical set-point. It requires constant awareness and attention because on a cellular level we are fearful of starvation and our brains slow our metabolism so we can't eat what we ate before and simply remain the same. Couldn't it be possible that our soul behaves in a similar way?
It's really hard to change a habit and create a new set-point. My sense is that retreats are one way to fix awareness on our mental chemistry and confirm what we already know deeply: that once we step away from church it's really hard to maintain that same spiritual metabolism. I live so separately it's hard for me to maintain relationships that deeply nourish my soul and I felt if I continued to treat church like a once-and-done Sunday only thing, the same messages that might have been plenty for me as a teenager are simply not powerful enough to maintain me as an adult in this stressful and conflict filled world.
So the retreat for me was about creating a new set-point. It left me feeling stronger and not as desperately hungry as I have been. It may not be the right diet for everyone, but it felt good to go through it with others in the same boat. I recommend it to anyone needing a bit more nourishment than a Sunday-only diet.
        Tori O.
____________________________________________________________
Here is my experience:
I am normally a quiet person and shy.  Going to the retreat with St. Matthews members helped me to opened up my mind and soul even though it was not evident.  I enjoyed the company of the members as we sing along praising God.  I particularly enjoyed the singing, story- telling and of course the food.
Thank you very much for having me and I truly appreciate the priceless time doing things together and just having fun as a group.
Regards
        Cielito S.
____________________________________________________________
They say a picture is worth a thousand words.  Imagine yourself relaxing on the spacious porch of a turn of the century guest house on a sunny spring day.  The setting is a hilltop surrounded by rolling meadows and forest trails.  The people from St. Matthews that attended a weekend retreat at St. Mary's Abbey McMahon retreat house in Wrentham, MA were blessed with this experience at our 2016 spring retreat.  The fellowship and sharing were as inspiring and uplifting as the setting.
The theme of the weekend was exploring each individual's story and discovering how our stories were part of God's story.  We are all at different places in our faith journey and each has his or her own unique perspective. We all have stories of both joy and pain.  Wherever you find yourself on that journey of life, it is comforting to know that you have a faith community that is with you in your travels.  We started to explore the importance of a faith community and the role it plays in our lives both individually and collectively.  We laughed, we cried and we hugged and of course we shared many amazing meals in the true Methodist fashion.
I will leave you with a quote from the Mount Saint Mary's Abbey website that beautifully sums up the value of a spiritual retreat.
"By gently and gradually gathering up the strands of your fragmented life into one whole, you will become the one…that can distribute yourself to others, and still have something left to take into the great solitude of your vast soul and rest in God."
        Nancy V.
____________________________________________________________
The retreat was a wonderful experience for me. I got a few things out of it. First I got to celebrate my annual restart with all of you. I had an opportunity to get to know some of you better and add to my my community. And finally I got to remember why my spiritual journey is important.
Many blessings to all of you!
        Kris C.
____________________________________________________________
I was grateful for the opportunity to get to know folks better and to talk about things that matter deeply.  Being gathered together around the table for meals was such a visible sign of Jesus being present. It was nurturing and wonderful to be able to "take time our of time" and just be in the presence of God and each other.
Blessings,
        Elizabeth W.
____________________________________________________________
For me, the retreat represented a chance to breathe freely and to be at peace with other people who were sharing a particular path on the long journey – I found time to reflect on community, friendship, nourishment and loving relationship. It was a profound experience to share the weekend with fellow faith travelers. I am grateful for each person who attended the retreat, as well as those who remained at home while we were 'retreating'.
        >Marcia R.
____________________________________________________________
For me the retreat was a time of quiet, prayer and reflection, and time spent with companions. It didn't change the direction of my life, but it was like a delicious, nutritious meal. It fed me.
Blessings,
        Steve G-H.