People from St. Matthews attended a weekend retreat at the Marie Joseph Spirituality Center in Biddeford Pool, Me.
The following are some of their observations and reflections on the experience.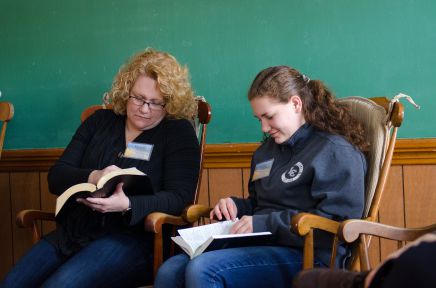 If you would like to read some of the personal psalms  that were written by attendees during the retreat, click here
I wasn't sure I wanted to do another retreat and with the weather forecast I was willing to stay home. I have been on retreats that turned out badly and others that were mountain top experiences. I didn't know what to expect with this one but decided to go along.
We started out early afternoon in light snow and sleet but by the time we got to the NH border the road was dry. The ride up to Biddeford was pleasant and great to talk with Susan as she drove. We had a chance to learn about each other and our lives which were very different.
I appreciated getting to know Christy and Abigail, who is expecting her first child the end of this month and to spend time with Melissa and Betsy. I learned some heart breaking stories and it made me feel great compassion not only for these dear people but for others in our congregation.
My room was on the 4th floor facing the ocean. What a sight! The changes in the ocean over a three day period was incredible! It went from a gray low tide to an angry boiling mass and a swirling surf  pounding over the rocks at high tide. On Sunday we woke to a beautiful morning with blue sky, white clouds reflecting off the blue water outlined by the white snow on the shore. To top it off the wind had died down and the temperature was comfortable.
When I think about it it is much like the seasons of our lives. The constant thing is God who is always with us through the storms and the peaceful times. He is the same yesterday, today and forever.
It was a wonderful week end with time for reflection, study, deepening friendships, fun and rest. Thank you Susan for a well- planned spiritual time.
Dot W.
____________________________________________________________
The retreat at the Marie Joseph Spirituality Center was truly a memorable experience. Having the opportunity to study and learn with fellow members of Saint Matthew's, along with having time set aside for fellowship or solitude, provided me with the chance to get to know my fellow retreaters a little more deeply. The food and facilities were better than I had expected, and getting to experience a Nor'easter on the beach is not something I'll soon forget.
While I hadn't exactly been looking forward to studying the Psalms, Pastor Steve made the experience a fulfilling one, not only directly teaching us, but letting us personally encounter them in a variety of ways. I would recommend that anyone who has a chance to go on a retreat take advantage of the opportunity to do so; I'm quite sure you won't regret it.
Wayne L.
____________________________________________________________