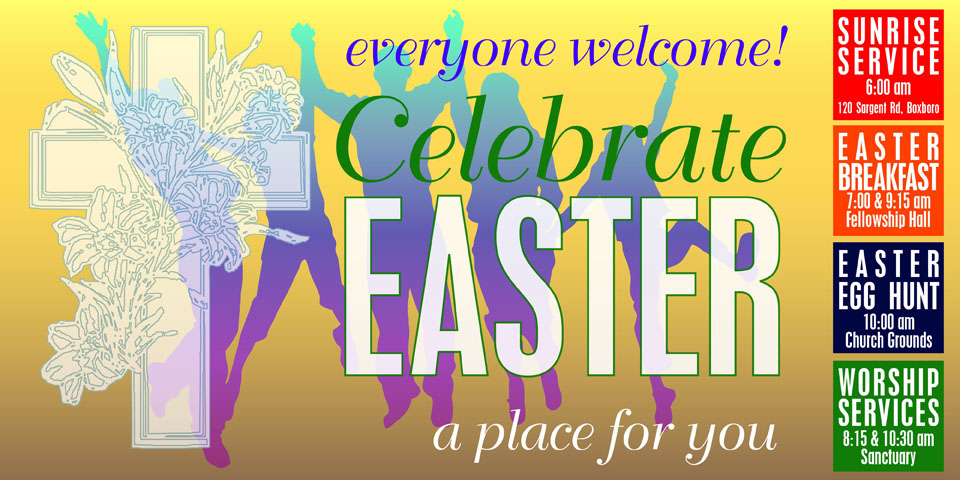 (Scroll down to see what to expect when you visit us)
March 25 — Palm/Passion Sunday                   March 30 — Good Friday
8:15 a.m.— A brief prayer service                  7:30-12:30 p.m. — Good Friday Walk
9:15 a.m.— Sunday School for all ages         7:00  p.m. — Worship Service
10:30 a.m. — Worship
March 29 — Maundy Thursday                          April 1 — Easter Sunday
7:00 p.m. — Worship Service                          6:00 a.m. — Sunrise Service
.                                                                            7:00 & 9:15 a.m. — Free Breakfast
.                                                                            8:15 & 10: 30 a.m. — Worship
.                                                                            10:00 a.m. sharp! — Easter Egg Hunt (No Sunday School)
Good Friday Walk to benefit Loaves & Fishes & Sharing, inc.
For over thirty years, residents in the communities around Harvard, MA will participate in the Good Friday walk to raise funds for the Loaves & Fishes food pantry in Devens ,MA and Sharing, Inc.  For more information please click here.
Easter Sunrise Service
The Sunrise Service will be at 6:00 a.m. (Sunrise will actually be about 6:30 a.m.) at the north end of Idylwilde Farms, 125 Sargent Road in Boxborough (just a half mile from the church).  From the church, go left on Central St., right on Littlefield Rd., and left on Sargent.  The service will be followed by breakfast at the church.
What to expect when you visit us:
Expect to meet people just like you, who want to grow to love God and neighbor more and more. There's no pressure to fit in; we're all just being ourselves. We are aware of our own failings and imperfections, and we want to encourage each other as we are shaped by God's love for us.  We welcome all people–old and young, gay and straight, rich and poor, all together and falling apart, devout and agnostic–with friendly and loving hearts.  Most of us have a pretty progressive theology. All of us believe that every person deserves to be valued, respected and loved.
Is there a dress code?  Yeah: wear something.  Some folks will be in new Easter outfits, others like to wear casual, comfortable, whatever's at-hand.  Be you! 
What if I don't know all that churchy stuff?  No problem.  Everything in the worship service is written in the bulletin. Even so, there's no wrong way to worship. The purpose of the liturgy is to be present with God and one another, not to put on a performance.  It's like we're sitting around the campfire with God, partly to get the warmth, and partly just to be together.  If you want, you can just watch. 
Will you introduce visitors?  No.  As we meet you before or after the service we'll introduce you to our friends– but we won't single you out in the congregation. Awkward!!
What about our energetic kids?  We love 'em.  Kids are a part of life, part of the community.  Bring them.  If a baby gets cranky you can go to a cry room off the sanctuary so you can see and hear without others hearing your baby. Or get up and walk around in back. We also have nursery care during worship. For kids ages 4-7 there's Kid's Clubhouse, an alternative time during most of the worship service.  (They leave after the Children's Time and return for communion or the end of the service.) If it's your husband who's being obnoxious, well, that's up to you to deal with.
How do you do communion?  Can I take it? Can my kids?  Yes.  We offer it to everybody– no restrictions on age, church membership or even belief.  It's Jesus' presence, and he never held that back from anybody.  It's the love of God, and who can say that anyone does or doesn't understand it or deserve it enough?  It's about sharing, and even the littlest kids get that.  So you and your family are welcome at the table. But you don't have to if you don't choose to.  (If you can't come forward but want communion, we'll come to you.) You'll get a piece of bread (gluten, dairy & soy free); dip it in the cup of grape juice.  Enjoy. 
Any other expectations?  Nope. Relax.  We just want to offer you some time and space to worship God, and we only expect you to be yourself. You can participate as much as you want, or just observe. Nobody will put you on the spot or expect you to fit in. There are no hoops to jump through, or membership requirements or prerequisites.  We're interested in what you care about, and what your life is like.  We'll honor your path, whatever it is. We're all on our own journeys, sometimes all messed up and sometimes looking pretty good. We just expect you to be living life. Just like us.
We look forward to seeing you.