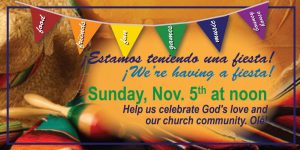 Fiesta!
Come help us celebrate all that Saint Matthew's means, to us, to our surrounding communities, and to the world at large!
Everyone is invited to celebrate God's love and our faith community at a special Fiesta Sunday November 5th. The festivities will start right after the second church service and last as long as we are having fun (~12-2). We will have music, games, and fun finger foods.
There are several opportunities to join in:
– If you are inspired, please bring your favorite appetizer or dessert to share.
– Do you have a cute baby picture or vintage snapshot for a guessing game?
E-mail to Melissa Rollins mrollins@mr-online.com or bring to church and Donna Yost or Melissa will photograph your photograph and instantly upload.
– Bring some cut up fruit for the chocolate fountain (yes CHOCOLATE FOUNTAIN!)
– Do you play in a Mariachi band? (or know a Mariachi band?) Please speak to Elizabeth Martin or someone on the committee.
– Bring a Cake or special dessert for some lucky person to win in the cake walk.
Come, have fun, and make new memories!
To sign up, click here